Hello everyone, here is a quick guide for getting setup for online lessons.
What you will need:
A laptop/tablet or phone (the bigger the screen the better but phones work fine too!)
the app 'Zoom' installed on that device
Headphones
That's pretty much it!
Placing your camera:
This is very important as I need to be able to see your hands, sticks and face! Here is a screenshot of what you will see of me and my drums in lessons, if you could try to get your camera in a similar position at home that would be ideal but obviously everyone has completely different setups and rooms so just do your best! The most important things to get in shot are your sticks/hands and preferably as many drums and cymbals as possible.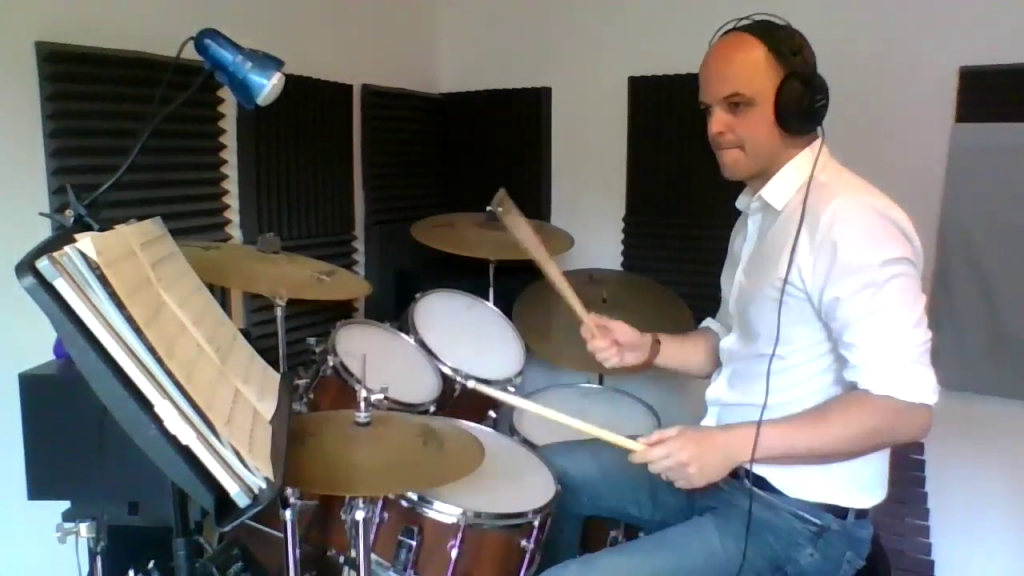 I spent ages finding a good angle then afterwards realised my headphones lead wouldn't reach so bear that in mind! (Obviously Bluetooth or wireless headphones don't have this problem!)
ZOOM App
Zoom is available on all devices. If you don't already have it installed, just type Zoom into your App store and install it from there.
Turn On Original Sound
As Zoom is primarily setup for picking up human voices, it may automatically try to turn your microphone off when it hears anything BUT your voice (such as the sound of drumming for example!) so there is just one setting in the Zoom app we need to turn on to make sure it doesn't do this. The setting is called 'Turn On Original Sound', please have a go at doing this BEFORE our first meeting as i'm not sure if you can do it during a call. DON'T WORRY if you have problems though, it will still work fine, this setting just improves the sound quality a lot. (I can help you with it further afterwards.) Here are the instructions:
Laptop/Desktop
Sign out and sign back in to the Zoom Desktop Client.
Click Settings. 

Choose the Audio tab.

Click Advanced.
Check Show in-meeting option to "Enable Original Sound" from microphone. 
Mobile app
Sign out and sign back in to the Zoom mobile app.
Tap Settings.

Tap Meeting.
Tap the toggle to Use Original Sound. 
That should be all the setting up you will need to do for us to get started, see you online!
Thanks
-Andy